Due to an unprecedented increase in the cost of beef from our suppliers, we are forced to raise the prices of all menu items containing beef. These increases are necessary to maintain the quality you know and love. Thank you for your understanding.
All-New Route 66 Casino Restaurant
We opened our newest restaurant location inside the Route 66 Casino Hotel on Friday, May 6, 2022.
Route 66 Casino Hotel is one of Albuquerque's favorite casinos and in addition to dining venues, guests can enjoy the thrilling action of over 700 slot machines, table games, and bingo. Route 66 Casino is located 15 minutes west of the Big-I intersection of I-40 and I-25.
The hours of operation for the new restarant are as follows:
Open:
Sunday – Thursday: 11 AM – 10 PM
Friday & Saturday: 11 AM – 12 AM
Closed:
Wednesdays
12th Street Albuquerque Restaurant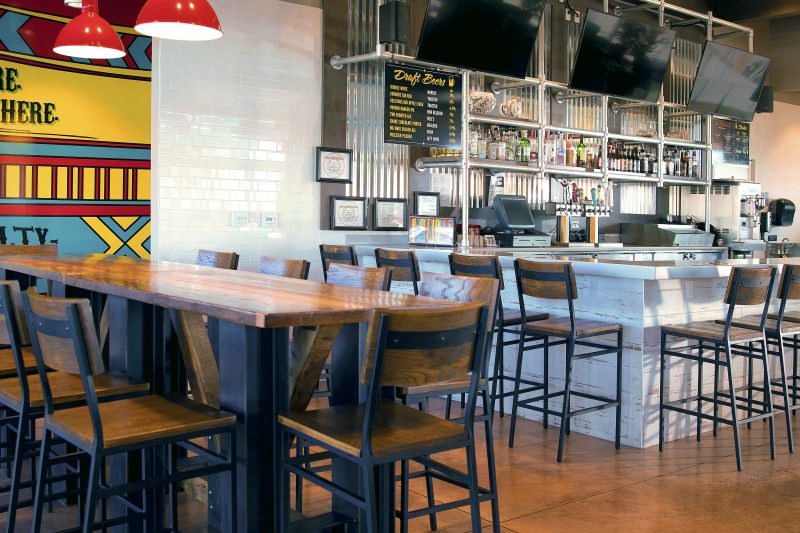 The 12th Street Laguna Burger restaurant is located in the Avanyu Plaza on 12th Street, just north of Interstate 40.
The restaurant menu features the award-winning Laguna Burger, plus debuts The Wimp, a 1/3 pound version of its world famous big brother.  Perfect for lunch or dinner, our menu also features an entire line-up of Hot Dogs, Salads, Sandwiches, Lit Shakes and more! 
This location is central to many Albuquerque neighborhoods and makes us the perfect place to grab lunch with co-workers or to meet up with family and friends after work or on the weekends.
Stop at our original eateries
Cruise west on Historic Route 66 and taste the World Famous Laguna Burger in the two original Laguna Burger locations.  Both locations are west of Albuquerque off of Interstate 40, inside of the 66 Pit Stop.
These iconic locations have had the honor of feeding numerous world travelers over the past decade. The casual atmosphere is filled with the laughter of the Laguna Burger chefs mingled with the conversations of families on road trips and businessmen on lunch break. Dining tables are tucked among Route 66 memorabilia, providing a comfortable area to talk with family and friends over a simple and delicious meal.
Route 66 Casino Restaurant
I-40, Exit 140
Albuquerque, NM 87121
Hours:
Sunday – Thursday: 11 AM – 10 PM
Friday & Saturday: 11 AM – 12 AM
Closed:
Wednesdays
12th Street Laguna Burger Restaurant
2400 12th Street NW
Albuquerque, NM 87104
Hours:
SUN – THURS: 11 am – 8 pm
FRI & SAT: 11 am – 9 pm
The 66 Pit Stop
Interstate 40, Exit 140
Rio Puerco, NM
HOURS:
6 am – 7 pm DAILY
Breakfast: 6 am – 10:30 am
Lunch: 11 am – 7 pm
The 66 Pit Stop
Interstate 40, Exit 114
Laguna, NM
HOURS:
7 am – 3 pm DAILY